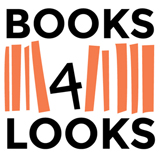 books4looks© offers a unique way to display the striking graphics of contemporary and 20th Century book design. Actual books hang as 'Art' whilst remaining intact and accessible to the reader.
books4looks© specialises in sourcing and displaying contemporary book design and illustration of the 20th century. Ranging from formality to folk tale, there is a huge variety of imagery to choose from for wall hanging or free standing presentation. Many of these works incorporate striking vintage 50's and 60's Penguin paperbacks. These make up large wall panels or smaller displays when grouped by theme, pattern, or style.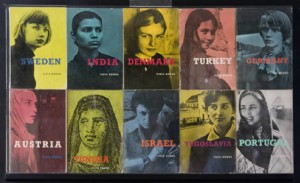 Our 'Vista' girls, an acclaimed series of travel-guides, form a 'poster' of sixties photography at its best. The black background accentuates the photographic quality. In contrast, the illustrative children's books use brightly coloured stained timber surrounds to compliment the graphics of the era. We can source books to meet your special requirement.
By using a wide variety of materials and finishes combined with the use of protective polished acrylic, our "book pictures" can be designed to commission. CONTACT US to discuss your requirements.
Below are some examples of current themes selected from our ever-changing stock.
---
Classic Orange Penguins
---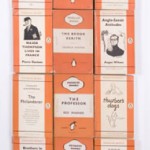 We can provide larger or smaller panels of Penguins:
Green Penguins, Vintage Penguins, Multi-coloured Penguins, Blue Penguins ….
Give your room the 'wow' factor with panels of green and orange Penguins!
Price: £275
---
Penguin Verse in Many Colours
---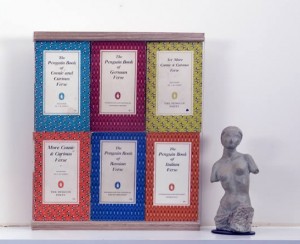 1950's Penguins – Some of our most popular items framed in acrylic and wood. This popular series appeared in a wide variety of colours and patterns.
Free standing or wall mounted.
Price: £165
---
Penguin Garden Handbook
---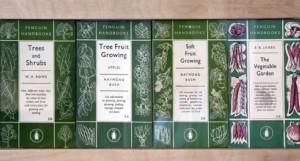 Why hide these books on a shelf? The plain horizontal bands of earlier editions had gone by the 1950s.
Free standing or wall mounted.
Price: £165
---
Robinson Crusoe Vintage Penguin Classic
---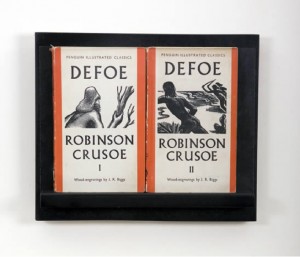 Striking 1939 woodcuts by J. R. Biggs under the direction of Robert Gibbings at Penguin.
Framed in black and acrylic.
Price: £125
---
Adventures in Cookery
---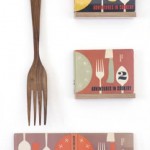 Full set of Patten's scarce classic work (with over-size fork!)
No celebrity name credited for these covers, but undeniably great graphics. Seen here with white backing board, also available in birch-faced timber finish, or can be mounted directly on your own kitchen wall.
Welsh set available, too.
Price: £320
---
El libro de las mil noches y una Noche
---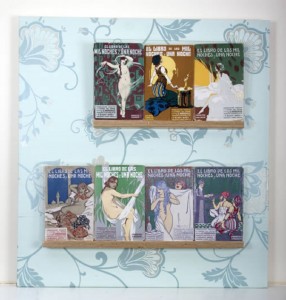 The rare dust-wrappers of this beautifully illustrated "Modernista" Spanish edition of a 'Thousand and One Nights' scarcely ever see the light of day, most of these books were cloth-bound after purchase. Here shown with decorative backing board but can be re-mounted and rearranged to suit.
Price: £325
---
Brian Cook's Pastoral Batsfords
---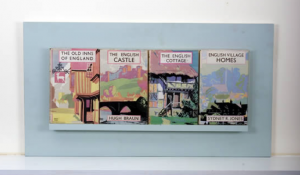 Enduringly popular and collectors' items, the work of Brian Cook appeared on the Batsford dust-wrappers from the 1930s to the early '50s. An homage to rural England. Shown with pastel-coloured backing board but can be re-mounted and rearranged to suit.
Price: £165
---
Black Lace Ladies
---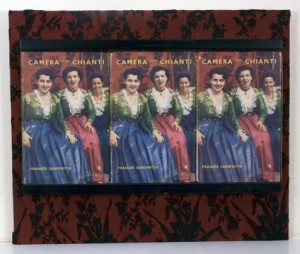 Backed in their own antique lace.
Price: £165